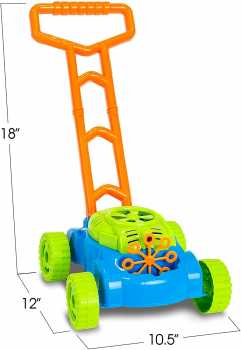 ArtCreativity Bubble Lawn Mower - Electronic Bubble Blower Machine
An awesome toy that will have that kiddo bubbly with glee! This lawn mower doubles as a bubble blower machine kids will love. It comes with a bottle of bubble solution to fuel the fun. Just insert 3 x AA batteries (not included), and watch it produce a barrage of beautiful bubbles.

ATTENTION
Please ask the seller any questions you may have before purchasing. Never conduct transactions outside of FiddlePiddle. Seller will provide you with the tracking number directly (24-72 hours usually). Always check your spam folder.